Winter bugs!
Winter bugs!
5 December 2022 (by K.Gordon)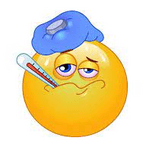 As many of you will have already experienced, this time of year often brings with it a selection of bugs and illnesses in the community. I want to reassure you of some of the measures we have in place in school to help to stop the spread of germs in school and to keep your children and our staff well.
Good hand washing regimes - children are encouraged to wash their hands after going to the toilet, before eating and after coughing, sneezing or using a tissue

Children are encouraged to catch their coughs and sneezes (in a tissue or the crease of their elbow) to prevent germs spreading through the air

Our classrooms and toilets are cleaned every day

Children who have been vomiting or have diarrhoea must be kept at home for 48 hours after the last episode

Parents of children who are visibly unwell or who have a high temperature will be contacted to come and collect their child
Please note that children with a mild cough or cold are usually ok to be in school - you do not need to keep them off!
Some of you may be a little more worried than usual at this time, due to the news and social media reporting higher than normal cases of Strep A this year. Please be reassured that for most children this is usually a mild illness that they will fully recover from within a couple of days of being treated with antibiotics. It can also be largely contained by following good hygiene and handwashing regimes. Attached is a useful document which outlines signs and symptoms to look out for and what to do if you suspect that your child might have Strep A